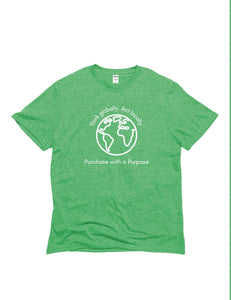 Purchase with a Purpose Tshirt
Regular price $20.00 Sale
Think globally. Act locally. Purchase with a Purpose. Our t-shirts in honor of year ten are available in sizes small to XL.
The best part? These are made fair trade in Haiti and printed fair trade in the US through Goex Apparel, the marketplace for parent organization, the Global Orphan Project. 

"GOEX is proud to be part of orphan prevention programming from their parent organization. They know the best way to keep families together and kids with their parents where they belong is to provide strong jobs that create opportunities."
Uunisex super soft triblend. 50% recycled polyester, 37% cotton, 13% tencel.